Are you a new blogger that needs to find free resources for your blog? I've been there myself as a new blogger. Finding out that there are many different resources and tools needed to blog. However, when you are not making money blogging, purchasing resources to help build your brand can be expensive.
This is why I have created the ultimate guide of free resources to help you get your blogging journey on the right track!
Free Tools For Email Marketing
ConvertKit one of the most popular email providers for bloggers. Offers a free plan for up to 500 subscribers.
HelloBar is a great tool to help you obtain subscribers for your email list without disturbing your visitors' browsing experience. HelloBar is a great way to announce a sale or display a special message to your customers or readers.
Interact is also another email marketing tool, which allows you to create interactive quizzes. This an excellent tool to help bloggers grow their email lists.
Need to improve your search engine optimization (SEO)? Use these free tools to help you attract more readers to your blog.
Tools for Keyword Research
Ubersuggest– Is only free for 7 days, but offers affordable plans, and provides content ideas, keyword difficulty, and keyword suggestions.
SEMRush– The all in one marketing tool for online creators. Not only does SEMrush offer keyword tools, but it also offers the following;
The ability to monitor your competitor's traffic
keyword difficulty tools
writing assistant tool
Site audit to ensure your site is running at maximum speed and efficiency.
Free Blogging Courses
If you're one of the skeptics who don't think blogging courses are necessary, here are some of the benefits of educating yourself about blogging.
Want to gain more traffic, and learn the in's and out's of blogging from veteran bloggers? Then I highly recommend taking this phenomenal course created by the sisters of tinylovebug.com. Click Here to Enroll for Free
In fact, the creators at tinylovebug.com also offers an information filled Pinterest course. This course is super helpful will help you to create a solid Pinterest marketing strategy. Click Here to Enroll in Pinterest for New Bloggers.
Make sure to start your blog off on the right track. Take this free course on ensuring your blog is meeting all the legal guidelines. Enroll Here.
Looking to create the ultimate Pinterest profile? Grab your free 12 Page guide from Peak Your Pinterest.com
Related Content- 6 Steps to Creating a Viral Pin
Creative Free Resources
We all know how important social media is for bloggers and brand awareness. That is why being active on social media is a must.
Tailwind is a great social media app for Pinterest and Instagram. And guess what? Yep, you guessed it! They offer a free membership option!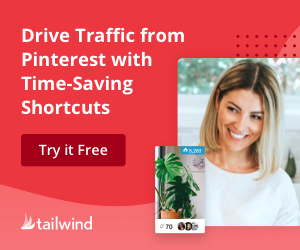 Do you have a YouTube Channel? Animoto makes video editing super easy, with their drag and drop tool.
Learn How to Create A Viral Pin for PInterest in 6 Easy Steps says: