So you're thinking about starting a lifestyle blog, and don't know where to begin?
I'm going to tell you everything you need to know about starting your own lifestyle blog and brand.
I originally started my blog in 2018 because I wanted to increase more traffic to my photography website. Since then, I have fallen in love with blogging. The ability to make money blogging is something that I initially thought was impossible to do.
I'm glad that I was wrong. Starting a blog has allowed me to spend more time with my family and to travel more.
What is your reason for wanting to start a money-making blog? Keep this reason in mind, and refer back to it on the days you are frustrated with blogging. Your purpose will become your motivation.
What is a lifestyle blog? A blog inspired by the daily activities and events of your life. Being a lifestyle blogger, you can blog about anything!
How to Choose A Name for Your Blog
When thinking of a name for your blog, you want something that is catchy, but not too long.
You also want to make sure whatever name you choose is available. To check if your name is available, use the link below.
Click Here to make sure it's available.
Secure Your Domain Name and Webhosting Through BlueHost.
I am a Bluehost affiliate and I will receive a commission when you use my links. My links can save you an extra 30% off your plan.
I chose BlueHost because I use them myself, and their 24/7 customer support is amazing. Plus their one-click WordPress Install is perfect for people who have decided to start a blog.
Because you are going with Bluehost, you can skip the step of deciding which blogging platform to use. WordPress is free with BlueHost!
Once you have secured your domain name and hosting. It's time to set up your site. WordPress will have various Free themes for you to choose from.
However, I definitely recommend going with a premium WordPress theme. Why? The free options are not always the most user captivating themes. Website design and functionality are going to be a very important aspect of keeping the attention of your readers.
I recommend going with a WordPress theme from Elegant Themes.
You will have access to 87 themes for less than 8.00 a month. Click Here to Start the process of choosing a beautiful website.
They are super affordable, but you have the freedom to switch your WordPress themes as many times you like at no additional charge. You might not think you will want to change themes, but trust me, you will.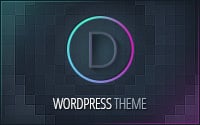 I have literally switched my WordPress theme over 10 times within the last 6 months. I always see another blogger's site and think to myself, "Oh, that's pretty." and next thing I know, I'm in my Bluehost dashboard changing my theme.
Also, as your blog grows, you will need different themes to accommodate the growth of your blogging business.
Unlike other premium WordPress theme companies, Elegant themes also do not require you to purchase the Genesis framework. The Genesis framework is required to make some child themes operate correctly.
Also with Elegant themes, you will have access to their popular Divi theme. The Divi is a WordPress Theme and visual page builder. So if you are technically inclined you will love the Divi Theme.
Click here for step by step instructions on "How to install a WordPress theme for Bluehost"
So we have our web hosting and domain from Bluehost, and we have our theme from Elegant Theme.
Email Marketing Service to Grow Your Email List.
Why do you need to build an email list? An email list is essential to bloggers. This is how you make your money, and keep people coming back to your blog site.
An email list is more vital than social media. Because you don't own your social media followers, but you do own your email list.
Here's how I grew my email list, use this list to help you get started.
I currently use ConvertKit to collect email addresses for my blog. Convertkit also offers a free plan with up to 500 subscribers.
First Blog Post
Deciding on topics when you blog can be somewhat difficult. Here is a list of lifestyle topics to help you create your first blog post.
You're almost there! You will officially be a lifestyle blogger once you hit the publish button to your blog post.
But before you do, let's make sure your blog post is free of grammatical error. Use Grammarly to confirm your sentences are mistake-free and effective in the delivery of your message.
Final Thoughts
I'm so glad that you decided to become a lifestyle blogger. Don't forget to grab your domain and web hosting via BlueHost, Install your Theme from Elegant Theme, and your